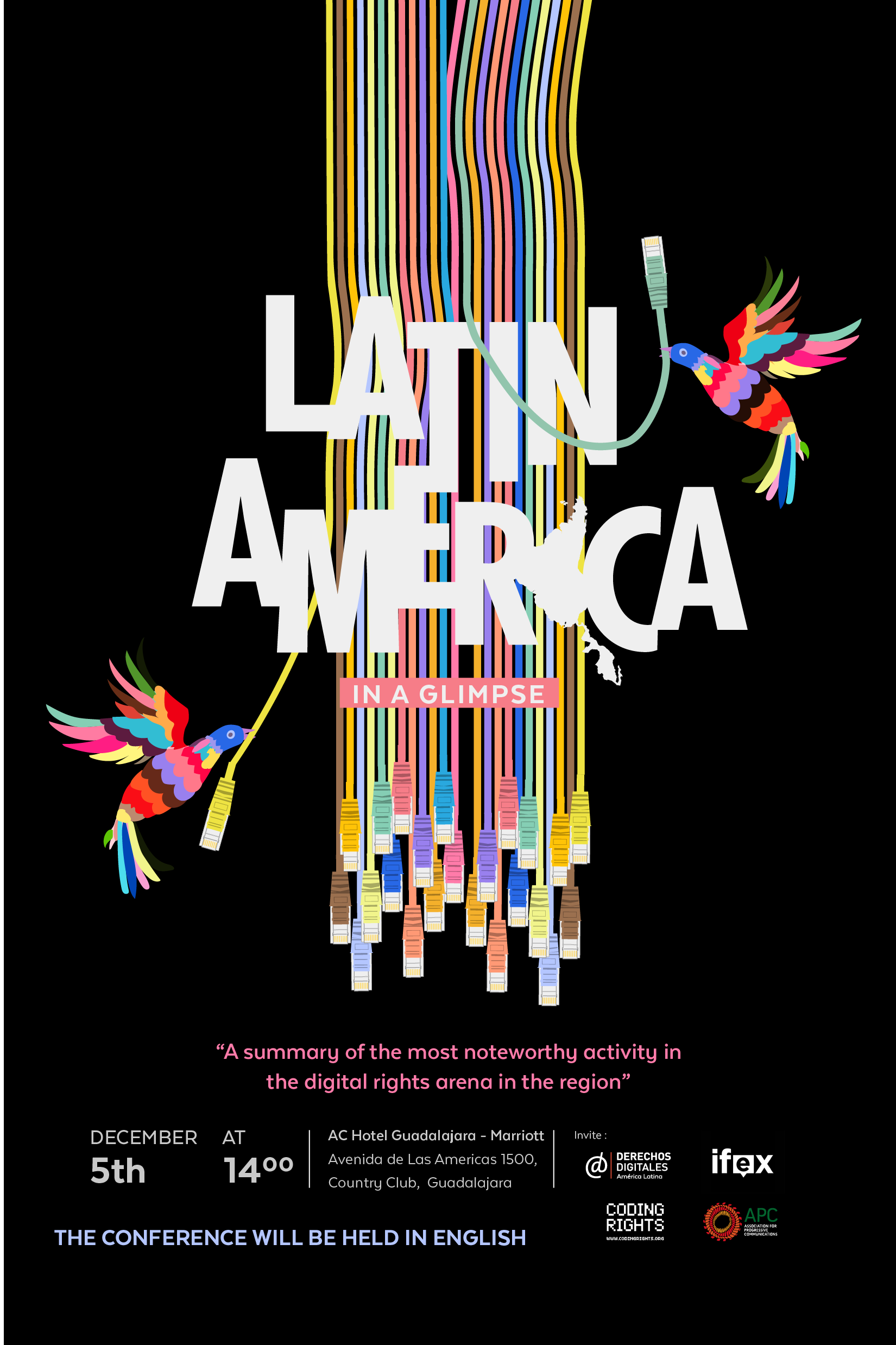 Derechos Digitales and IFEX-ALC, cordially invite you to the release of "Latin America in a Glimpse," a summary of the most important trends in the digital rights arena in the region this year. The project was a collaborative effort carried out between Derechos Digitales, APC, IFEX-ALC and Coding Rights (Brazil).
The event will be held on December 5th, at the AC Guadalajara México Hotel – Marriott (Avenida de Las Americas 1500, Country Club, Guadalajara Jalisco 44610, México) at 2:00 PM, a day prior to the Internet Governance Forum. This is a perfect opportunity for the international community to connect and better understand the reality of human rights on the internet in Latin America.
We will have two roundtables focusing on some of the most relevant issues that Latin America faced in 2016. The first discussion panel is called Digital Surveillance in Latin America: New Challenges, New Narratives, with the participation of Coding Rights (Brazil), Fundación Karisma (Colombia), R3D (Mexico), TEDIC (Paraguay), Sula Batsú (Costa Rica) and Valeria Betacourt from APC as moderator. The second discussion panel is called The "Right to be Forgotten" in Latin America? The Whys, Whats and Hows: Case Analysis, and will include the participation of ADC (Argentina) Derechos Digitales, Artículo 19 (Mexico) and Hiperderecho (Perú).
It would be great if you could confirm your attendance by filling out the form below, but is not required to participate.
No se ha encontrado ningún campo.